JCU Student, Ethan Waters Receives awards for his innovative work into RSD detection.
Congratulations to Ethan Waters the winner of 2022 C.N. Barton Medal for best JCU engineering thesis seminar. He received the award on Thursday evening of the 27th of October at JCU. Additionally, Ethan was the runner-up for the Engineers Australia | Institute of Engineering Technology Student Seminar Competition QLD Finals for Software, Electrical & Electronic Engineering. He received the award on Wednesday night, the 19th of October, at the Engineers Australia office in Brisbane.

Ethan was the James Cook University representative, presenting his thesis on "Sugarcane Health Monitoring and Ratoon Stunting Disease (RSD) Detection with Freely Available Multispectral Satellites".
Ethan thanked Engineers Australia and the Institute of Engineering Technology for hosting the events. He also thanked his JCU supervisors, Mostafa Rahimi Azghadi and Carla Ewels, for their guidance and the team from HCPSL who assisted him with his studies.
Ethan will continue to work (as a JCU student) with HCPSL staff to progress the research he has undertaken into RSD detection.
Once again congratulations Ethan, your dedication and hard work has paid off.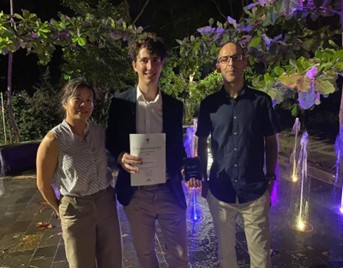 Download a copy of the Press Release below: