Cultivate Farms
We know many next-gen farmers want to own their own farm, scale or even buy out your family farm. But we know getting capital is hard.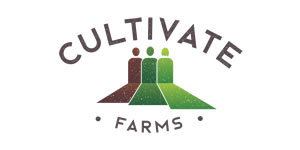 As part of our ongoing drive to support next-gen farmers, HCPSL have partnered with Cultivate Farms (www.cultivatefarms.com) to provide farmers in the Great Barrier Reef region the tools and resources to find a pathway to ownership or scale an existing farming enterprise.
Cultivate Farm's basic premise is that it is possible to own your farm by sharing ownership with retirement aged farmers who don't have kids to hand the farm on to, or whose kids don't want the farm.
Cultivate Farms have developed a proven farm ownership incubator program Cultivator. Cultivator offers farmers the chance to prove their skills and to dramatically increase their chances of finding a partner to co-own their farm.
Cultivator is a proven farm ownership incubator for next generation farmers. Starting in October 2021 and finishing in December 2021. You will join with other next-generation farmers from around Australia on a weekly journey to develop a farm investment proposal, 5 year financial model and 3 minute video.
Ten Great Barrier Reef Catchment Cultivator Season Scholarships are on offer to farmers in the Great Barrier Reef Catchment. All eligible farmers will receive the whole package valued at $2,000.
Entry to Cultivator free – valued at $1500
A farm analyst to help write your farm ownership plan – valued at $500
You should apply if:
You are farming right now or have the skills to run your own farm
Your farm or dream farm is in the GBR catchment
You have the desire to own your farm
Contact the Cultivate Farm team or HCPSL to find out more about this project and opportunity for next-gen farmers.
Ellie McVeigh – HCSPL Extension Agronomist
Phone: 0491 149 245
Email: emcveigh@hcpsl.com.au
Sam Marwood – Cultivate Farms CEO
Phone: 0408 356 042
Email: sam@cultivatefarms.com
This program is funded by the partnership between the Australian Government's Reef Trust and the Great Barrier Reef Foundation who are seeking to test innovative solutions to complex problems to achieve an enduring improvement of land management practices and support the farming community within the Great Barrier Reef Catchment.